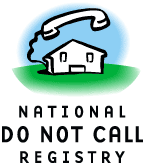 Do Not Call Information
Computer Support Group, CSGNetwork, is a supporter of the efforts of the Federal Trade Commission (FTC), the nation's consumer protection agency and manager of the National Do Not Call Registry. Click here to view more information from the FTC on the National Do Not Call Registry and how to avoid telemarketing fraud. (If this is concerning a FAX, see this Do Not FAX Info page.

You can register a number here. You can also verify a registration number here or file a complaint here.