Awards Presented by CSGNetwork
Because we do a tremendous amount of research on the Internet, we probably see many more sites than the most dedicated of surfers. From time to time we award sites special recognition that, in our opinion, stand out and go beyond normal standards in certain areas. Our "Eggie" and "GG" awards are explained below. We do not accept "applications" for these awards but we are happy to look at sites you feel might meet intent and spirit of the qualifications listed. If you know of such as site you may contact us with your suggestion. We do not feel that awards increase the value of a site or prestige associated with it, but do offer recognition of effort and intent. They are our way of saying "Thanks for a job well done"! We feel that the sites that get these awards make the Internet a better place for all using it.

Like the Boy Scouts of America, the primary beneficiaries of this site, "tents" play a major role in development, training and fun. In our case, the "tents" are content and intent. We are not concerned with the speed of the site, the beauty and creativity of the graphics, the cleverness of the HTML involved, or the unique action of the JAVA script. We feel that with few exceptions, a website is an extension of the creator's personality. It is our desire to give recognition to those that are a cut above the norm in attitude and service to others. There are few of these given out and those that get them, really deserve them. If you see either of these awards on a site, take the time to look it over carefully. It is deserving of your effort. If you liked the site, let the webmaster know. On the sites that you see either of these awards, that is about all the gratitude and reward they will get, or want for that matter.

Please visit our Glossary section that has earned us most of the educational honors we have been awarded. Nice job Gene, Christian, Evan and John!


---
The Eggie Award

A site that earns this award has gone to great effort to provide the "eggsact" content and information we (or you) looked for. They went into great depth, had "eggscellent" information on the subject and covered all you needed to know about it. It was "eggstravigant" in the wealth of knowledge it provided. The site was efficient, clean, better than "eggstraordinary", far better than "eggspected" (maybe even "eggsciting"!) and family safe. In our opinion, it was "eggsceptional"! A site that gets this award is one of an "eggsclusive" few.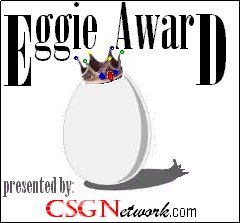 ---
The GG Award

Everybody wants to make a buck from the Internet (or so it seems)! We know there are some sites that do things for others and are just "Good Guys" in the way they do it. They have a site that yields revenue to organizations that need it, they provide useful services free of charge and really expect nothing in return. They promote good will, good thoughts and general harmony in society. They provide the ultimate in information and service without expense. They do not allow questionable material on the site. They promote a family safe atmosphere on the Internet. They help. They display a "selfless attitude" on the Internet. We like to promote the "Good Guys" any way we can!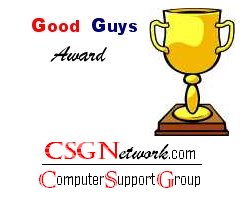 Co-operating Sponsors and Technology used on our Website